Another fantastic way to get an easy serving of greens! This smoothie is super super good for you with super foods and greens! Yayy! Don't worry, you can't taste the greens and the texture is rich, creamy, an explosion of flavours for your mouth. Good good good!
Green Super Smoothie
3/4 cup frozen Blueberries
1/2 Banana
1 Tbsp Chia Seeds
1 Tbsp Hemp Hearts
1/2 cup Water
1 Tbsp Peanut Butter (or other nut butter)
1 cup fresh Greens (Spinach, Kale, or Collards)
1/2 cup Coconut Milk
7 drops Stevia (or a touch of your own sweetener if desired)
1 serving of protein powder*
*I've been using Vegan Proteins+, but I love the taste of stevia ;) I've also used hemp protein before or you can omit the protein powder all together.
Soak the chia and hemp hearts in the 1/2 cup water for at least ten minutes, or overnight. Add all your ingredients together in a high-speed blender or food processor and blend until smooth and creamy! Add less or more coconut milk to get your desired consistency.
Makes 1 smoothie. Enjoy!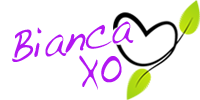 If you found this article to be helpful, please consider a small donation or visit
the shop
. Thank you for your love and support.